Welcome to DePaula Ford
Thank you for taking the time to check out DePaula Ford, serving drivers in the greater Capital Region. At our dealership located on Central Ave. in Albany, NY, we boast a selection of over 400 new Ford vehicles to choose from. We also have a full stock of 150 used vehicles, including a number of certified pre-owned Fords.
When you're shopping for a new or pre-owned vehicle at DePaula Ford, our knowledgeable sales staff are trained to help you throughout every step of the process, and help find the car that best suits your budget and lifestyle.
Choose DePaula Ford and you'll also be backed by comprehensive maintenance and repairs at our Ford service center. We've got a full staff of certified technicians on hand, as well as state-of-the-art service equipment and authentic Ford OEM parts. So whether you need an oil change, a brake inspection, or major repairs, we've got you covered!
Stop in to DePaula Ford, your Albany Ford Dealership today! You'll find our doors open for sales Monday through Thursday from 8:30 a.m. – 8:00 p.m., and Friday and Saturday 8:30 a.m. – 6:00 p.m. You can contact us with questions online or call us at (518) 375-2163.
Contact Us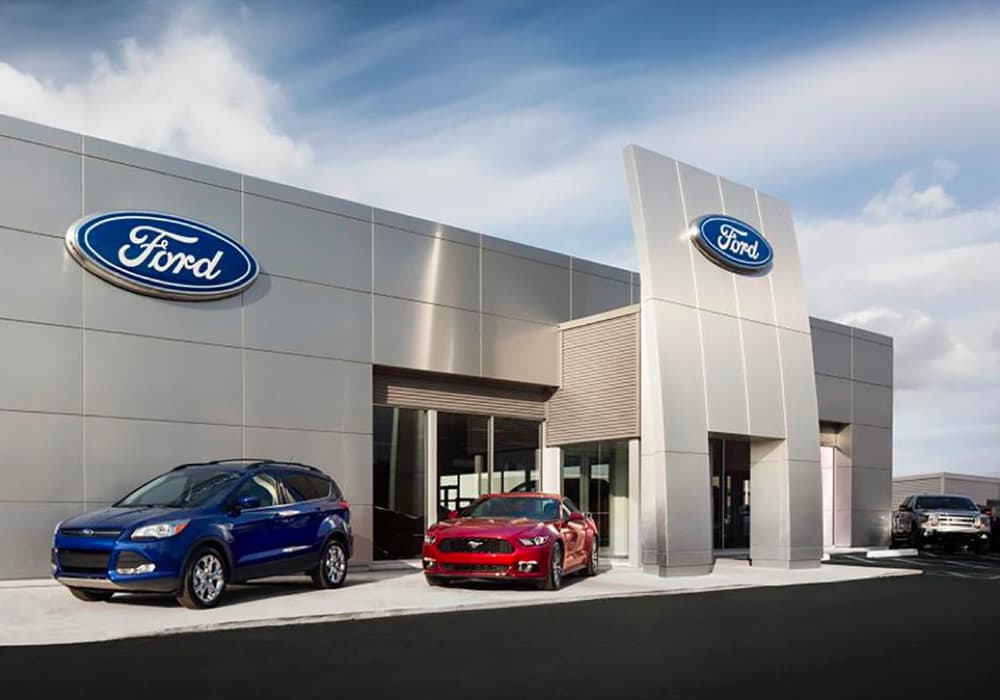 Get Directions To Our Dealership
We're Here For You
DePaula Ford always puts customers first!
Don't take our word for it: Read our reviews and see what everyone is saying.
I just recently purchased my 2019 Ford Edge Titanium from DePaula Ford. I had originally leased the Edge from the prior owners. I had issues with the way we were treated from personnel there during the leasing process. Fast forward to DePaula now owning the Ford dealership. No problems at all. I have had my Edge serviced at DePaula and the people could not have been nicer. I wound up purchasing the Edge just two weeks ago And that process went flawlessly. Thank you to DePaula. My husband also just recently purchased his previously owned 2020 Ford F-150 from DePaula Ford. He was also treated with respect. The people at DePaula Ford are wonderful. Why shop anywhere else?
I had my F-150 in for service recently. The guys didn't waste anytime getting my trucked serviced. They took all the precautions to keep my truck interior clean and oil/grease free. I was in and out in a very reasonable amount of time and enjoyed the rest of my Saturday.
Nate was amazing from start to finish we explained what we wanted and Nate took the time to look up every single car in the lot and go over pricing and features. He was patient even when we were considering other Depaula entities (Chevy, Mazda, used car lot) he wanted to make sure we were happy in whatever decision we decided regardless if it was with Depaula ford or not. Nate went above and beyond and made this car buying experience something that will forever be a top recommendation when someone says they want or need a car. Nate even took the time to go get the plates off my totaled car and made sure they were clean and put on the new car. The finance manager Q was extremely direct and able to give us realistic figures and did not try to go over the budget that we wanted when purchasing the car. I'm already looking forward to my next car buying experience with Nate at Depaula Ford. Thank you so much again.
The pre owned Mazda CX-5 seems to be a good find for my needs. I've been happy with the repairs that needed to be made and the Salesman was very helpful and not pushy.
DePaula Body Shop explained to my satisfaction what would be required to repair my vehicle and their work was excellent.
Dealership is #1 on my list .Glen Cummings has been my sales guy forever and I trust him completely.. Always helps me find the right ventricle and works on what is in my budget. Ty Depaula Ford.. .
Very responsive and prompt. Great communication.
Depaula's service center is the best in the entire capital district. Tom Restino does a fantastic job with his team and everyone is absolutely fantastic! Laurie In service was extremely helpful and accommodating. Jeff in the body shop has been absolutely a hod send to me. Go Depaula Service!! You rock.
The dealership was amazing. From the second I walked in everyone was amazing and helpful! The services were quick and the worker made sure to explain what was being done to the vehicle. I will absolutely return back and recommend anyone else who is looking for a car service center!
Excellent, timely collision repair, I am satisfied & thankful, they got me back on the road in time for my vacation! Great team, helpful, courteous & professional all the way!
Best dealer in NY. Josh and Q are true professional. They are the best in business.
I've delt with this dealership since they took over Orange Ford..BEST DEALERSHIP and Glenn Cummings is my sales guy.. He's the best around!!
Outstanding! Buying my vehicle from DePaula Ford was the best and easiest experience. I am convinced that there is really good people in this world because I experienced it at DePaula Ford. The sales people helping me were authentic and genuine. These are the facts. Never in my life (I'm 58) have I ever experienced true professionalism and care about wanting to help me with my car buying endeavor like DePaula Ford gave me. I'm still blown away. I walked in after work, and the next day (after work) I drove home my dream vehicle with plates, registration and insurance coverage. With no money, more coverage and benefits than I expected, and monthly payments a LOT less than I believed possible. Wow! Incredible. And DePaula Ford sold me the vehicle less than Book value! I could sell it right for a HUGE profit but I won't because it's my dream vehicle! Wow, I'm blown away! DePaula Ford knows how to help people. They are the best! And their service station is on sight, drive through! So no matter what happens with the vehicle I bought from them, they have the best access and drive through service! This is true "peace of mind" coverage. From this point forward I'm done, meaning, I will never buy or recommend a vehicle from anyone except DePaula Ford. Because they know how to help people. With absolute respect, thank you DePaula Ford! You have my business for life.
It was a good experien.i am very happy with my purchase.it couldn't be better.
They went out of there way to take care of my needs at a late hour in the day
I've owned many Fords over the years, been in many dealerships for purchases, maintenance & repairs. I moved recently, i tried a few dealers in the area then finally a recommendation to check out DePaula. DePaula Ford is top notch! Excellent service, friendly, professional & helpful. I highly recommend DePaula! I will continue to use their services …Thank you
John Fulgan was a great sales associate. He took care of from the time we got to depaulas through the whole process. He deserves 5 stars he was very knowlagable and help us with our questions.
Very happy with my service. Your service rep, Lenny has always been great to work with.
DePaula Ford, Why shop anywhere else second to none. My most recent experience was to buy out my current lease on my 2019 Ford Edge Titanium. Joshua Halse made sure that I received the best deal. He is always friendly and courteous to myself and my husband. My husband purchased his F-150 Lariat from Joshua in March of this year and his deal went flawlessly as well. DePaula Ford also gave my husband the best deal on his trade in. So if you need a vehicle, Stop in and see Joshua in sales and either Qasim or Tracie in finance. They make it easy! Thank You Denise Byrne
It's the employees that make a company great.Two of your best are Glenn Cummings & Q(Quasim). They are top notch & went out of their way to provide excellent service.
Frank - great. Stephanie- great. The person responsible for offering only 500 for my trade in - pathetic. Carvana is giving me $2,300.
Dealership was ok but very questionable and very consuming. Dealer and manager were ok but did not give me the best deal.
Purchased a new vehicle this past weekend. I'm happy with my purchase as well as the team at DePaula especially their finance manager Stephanie. She was upfront, informative and made herself readily available for any and all questions. I really appreciated her help.
All the personnel contacted were friendly and helpful. Buying the car was a breeze and they explained clearly all the process in every step.