Welcome to DePaula Ford
Thank you for taking the time to check out DePaula Ford, serving drivers in the greater Capital Region. At our dealership located on Central Ave. in Albany, NY, we boast a selection of over 400 new Ford vehicles to choose from. We also have a full stock of 150 used vehicles, including a number of certified pre-owned Fords.
When you're shopping for a new or pre-owned vehicle at DePaula Ford, our knowledgeable sales staff are trained to help you throughout every step of the process, and help find the car that best suits your budget and lifestyle.
Choose DePaula Ford and you'll also be backed by comprehensive maintenance and repairs at our Ford service center. We've got a full staff of certified technicians on hand, as well as state-of-the-art service equipment and authentic Ford OEM parts. So whether you need an oil change, a brake inspection, or major repairs, we've got you covered!
Stop in to DePaula Ford, your Albany Ford Dealership today! You'll find our doors open for sales Monday through Thursday from 8:30 a.m. – 8:00 p.m., and Friday and Saturday 8:30 a.m. – 6:00 p.m. You can contact us with questions online or call us at (518) 375-2163.
Contact Us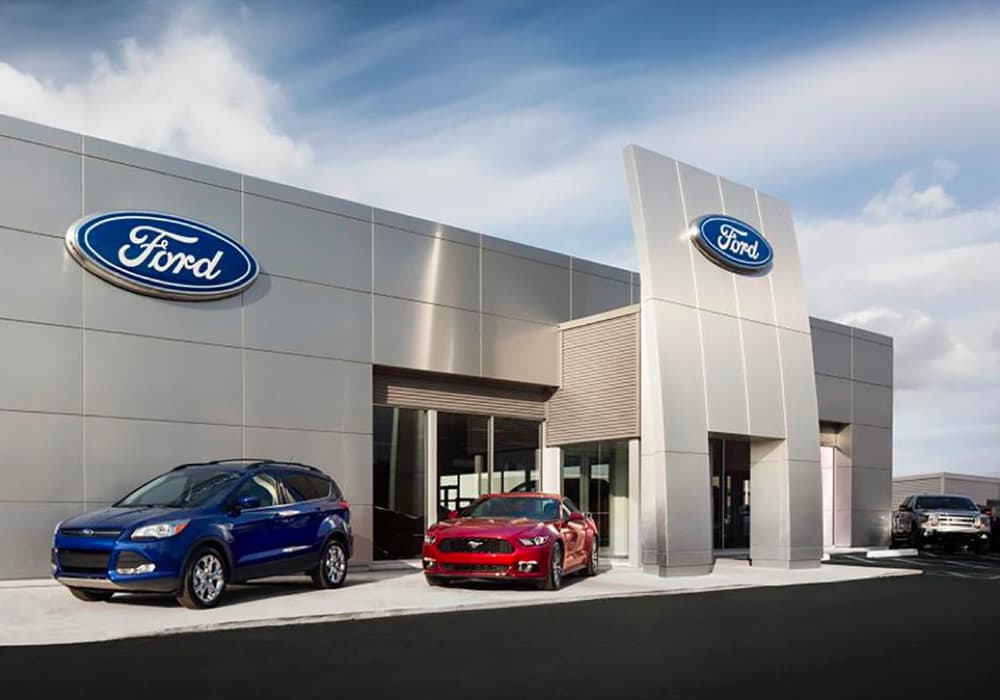 Get Directions To Our Dealership
We're Here For You
DePaula Ford always puts customers first!
Don't take our word for it: Read our reviews and see what everyone is saying.
Great care for my vehicle and time that it took for service kind and courteous
Quality service, friendly staff. Service took longer than expected, but I was pleased with the work that was completed.
I had to have my 2016 Explorer serviced due to recalls. They gave me an appointment right away, but I had to get it in before work, so we set up the date. Upon arrival, I was told that I could actually wait an hour for the 2 fixes to be made, however I had to get to work, so I left. When picking up my vehicle, not only was it finished, they had performed an inspection of sort to see if there were any other issues with my truck!!! Even though I didn't purchase my SUV from DePaul, I will definitely use them for service!!!
Attentive to my service requirements and accommodating scheduling. Work was completed in the timely fashion .
Luis went above and beyond to help me and my husband today when we were passing through Albany on our way home to NH. We were having a battery/charging system warning light in our F150. Luis checked the system for us, and even topped off the washer fluid! We made it home safely and I will be visiting my local ford dealer for a diagnostic, but Luis reassured me the truck would make it home. He was friendly and personable.
Crystal, Lennie and all the other staff are helpful courteous and timely when working with me.
Since DePaula took over, I've always had good experiences there. Everyone is always respectful, honest. attentive & trustworthy.
Very satisfied with all the help and service the sales staff and finance department excellent
My wife and I are very happy with the service department. Very quick and easy. Thank you!
The Representative was very professional and explained everything to me as well as advising me what would need to be done I chose not to do it in the end because of the age of the car
Josh was a very good sales person not pushy at all and was able to get me the vehicle I wanted with everything that I wanted I'm very happy with my purchase.
Friendly staff, very knowledgeable about the vehicles, different departments worked together to make our experience wonderful.
The service was fast, efficient. The staff was friendly and helpful. It was a really good experience
Great customer service straight to the point In and out within a day knowing what we wanted
Nate and Qasim were easy to work with. Daler ship is clean everyone was polite
Super happy with service today and took very good care of me all the way up to me leaving
Kind, courteous, dependable to know my vehicle, trustable to carefully attend to its maintenance. Grateful to have the good experience. Thanks
Very professional staff ! I was greeted by a friendly service greeter and very courteous and knowledgeable service advisor. As I was roaming into the sales floor I was greeted by my sales person, Joshua Halse. I wondered over to Depaula Chevrolet to look at the Chevrolets. Very friendly sales people there as well. Their service people seem top notch as well! The service manager, Mark Rosebeck answered a few of my questions on the Silverado as well. Great people! My vehicle was done in less than an hour. Very impressed with these people!!
Just amazing. DePaula makes everything so easy. I know who to call and know that I will be taken care of. Thank you Josh!
Thanks again for 20 years of terrific service. The service staff are always polite, personable and caring.
From order to pick up we received timely updates regarding our F150 delivery. Our new F150 surpasses our expectations! We were not disappointed with the service we received. We will consider shopping at DePaula again and will recommend to friends.
Only had the truck back once for a short period the experience was perfect no problems fast courteous people
Exceptional customer service. Best car buying experience I ever had. Jim, Shu, and Reid were fantastic.
I ordered my Raptor Gen3 thru DePaula and the entire process was awesome. Josh on the sales side and Qasim on the finance side were trustworthy and true professionals. Look forward to working with them in the future.
Extremely friendly staff, they do all they can to help you get the car you need at the price that's right for you