ROUSH: A Legacy of Performance
Like all connoisseurs, fans of the Mustang will inevitably vary between purists and overall enthusiasts. While some may argue against 'messing with perfection' there's little merit in debating the appeal of a ROUSH Mustang. By distinctively enhancing one of the most iconic performance vehicles in existence, ROUSH creates unique value for the impassioned driver. And with the line expanded to create new and exciting examples of enhanced vehicles, we at DePaula Ford take great pride in being an authorized ROUSH Dealership.
With a diverse selection of offerings, you can find the perfect ROUSH model for you.
Why DePaula?New VehiclesSpecials
ROUSH in the Rearview
It was 1988 when famed racing manager Jack Roush pitched the idea of a 400hp twin-turbocharged Mustang to Ford Motor Company. Although his hopes of forming a collaborative partnership with Ford would prove too expensive for mass production, it was the birth of an idea.
One could argue that the idea had been gestating for decades. Twenty-five years prior, a 24-year old Roush would relocate to Detroit, putting his mathematics degree to work for Ford. Making an art of multi-tasking he would spend half a dozen years developing Ford offerings, earning his Masters Degree and manage to win several national racing championships. By this point, his knowledge and experience, combined with his enthusiasm for speed and winning had found its fit in the world of racing.
While Jack Roush's focus would temporarily shift away from racing and team management, the self-named Performance Engineering company that he was growing would continue its long relationship with the sport. But his love of racing would summon him back. And after providing engine builds for several racing teams, he would return in an engineering and management capacity in the mid-1980's, earning dozens of championships in the SCCA and IMSA racing series.
By the end of the decade, Roush would begin his relationship with NASCAR, earning his first cup with Mark Martin behind the wheel. This relationship would only evolve in the coming decades, earning countless NASCAR cups and fueling the formation of both Roush Yates Engines and Roush Fenway Racing.
ROUSH Performance Products
Fueled by countless victories, Jack Roush realized that his grasp of advanced automotive engineering and race-proven technologies deserved a life beyond the track. Overtaking our roads and highways would require the perfect base vehicle technology for Roush modifications, and what vehicle would be better-suited to the task than the Ford Mustang?
Seven years after Ford had declined the opportunity for a joint-venture, Roush would form ROUSH Performance Products in 1995. Based out of Livonia, Michigan the company would focus on the production of aftermarket performance parts. But that original idea of custom Mustangs still loomed large in Jack Roush's mind, and through outsourcing, they began to make it a reality. Fast-forward a couple of years, and by 1997 Roush Performance offered up their first enhancement packages, which would serve up fully modified Mustangs to the general consumer.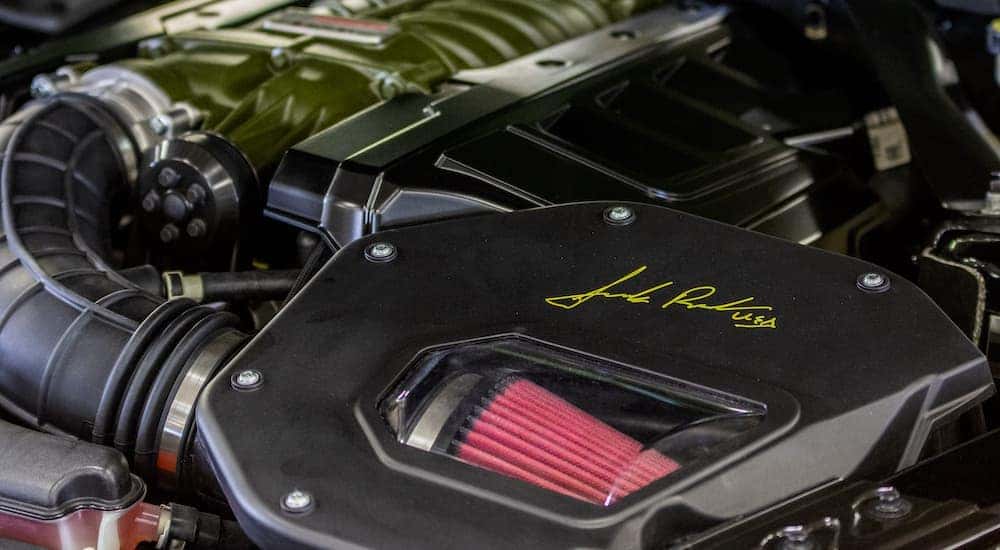 ROUSH Mustang
Made available through the 1998 model year, Roush's first offerings were built upon the single fastback coupe styling of the SN95 V8-powered GT Mustang whose factory specs rate the output of the 4.6-liter engine at 225 hp and 290 lb-ft of torque.
The enhancement packages would be tiered and named sequentially. Whereas the 'Stage 1' would consist of various exterior enhancements, the 'Stage 3' would bolster the cosmetic elements with a full performance package.
Having established a spectrum into which they could place their products, ROUSH would continue to flesh out their second-generation line with a Stage 3 Sport, Rally and Premium packages. And as the years progressed, the offerings would only get more diverse (and often more specific, in terms of theme).
With two decades and four generations of vehicles behind them, continual evolution has empowered ROUSH to thrive. Gaining, even more, diversity thanks to 'Special Edition' offerings like the 727 horsepower 'P-51' named after (and with modeling evocative of) the famed WWII fighter planes, the absence of 'limits' has become clear. But perhaps the greatest means of diversifying ROUSH's wealth of offerings came in expanding the scope of their vision. No longer limiting themselves to the relationship between track and street, ROUSH looked to the relationship between street and trail.
ROUSH Trucks
Motivated by the same vision that sparked their enhancement of the iconic Mustang, ROUSH Performance would set its eye on Ford's best-selling F-Series beginning in 2016. While a stock F-150 with a 5.0-liter V8 would deliver a confident 385 hp and 387 lb-ft, enhancements including a ROUSH R2300 supercharger would pump those numbers up to 600 hp and 557-lb-ft. Add in performance-inspired suspension, exhaust, specialty wheels, tires and a custom grille (among countless other enhancements) and you have a perfect platform upon which to redefine 'Ford Tough'.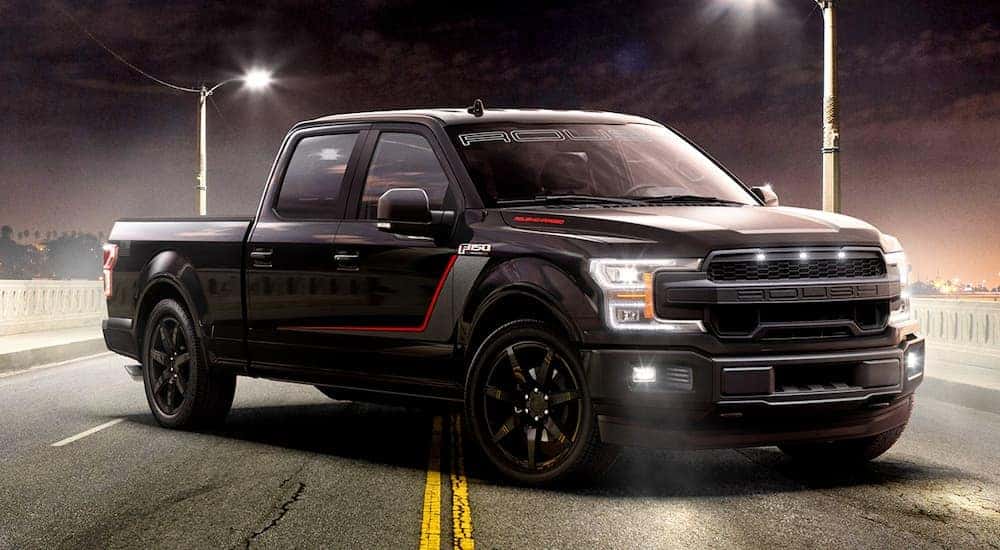 ROUSH Offerings (2017-2018)
Today's line of ROUSH vehicles represents a near-unparalleled culmination of decades worth of innovation. Based on a 2017 Ford Mustang, any enhancements are built upon one of two powertrain configurations (i) a 2.3-liter I4 EcoBoost engine, traditionally rated for 310 hp and 320 lb-ft of torque, or (ii) a 5.0-liter V8 serving up 435 hp and 400 lb-ft.
The 2017 Stage 1 marries form and function courtesy of performance-enhancing upgrades to the classic Mustang exterior. Engineered with precision, these features include a hood scoop, and side body scoops, along with pocketed front fascia. Aerodynamics are increased and drag decreased courtesy of a front chin-splitter and a high-flow grille, refining the performance of the EcoBoost engine.
The Stage 2 V8 features the same enhancements, further built up with the inclusion of a ROUSH suspension, performance tires, and wheels,
With the inclusion of a ROUSHcharged 5.0-liter V8, the Stage 3 serves up the ultimate fusion of track performance and road functionality. Ramping up the output to a staggering 670 horsepower, the ROUSH Performance R2300 TVS Supercharger sets the Stage 3 head and shoulders above any other American OE muscle car. Drivers can opt for the standard Coilover suspension or the ROUSH TrakPak 3-Way adjustable Coilover suspension to customize their ride experience. And speaking of customization, ROUSH's Active Exhaust System allows for a fully-customizable sound profile, providing that the Stage 3 deserves to be seen, and heard.
Building upon the visual strength of Stage 1, the ROUSH RS Mustang offers an aggressively-styled upgrade. Powered by a 3.7-liter V6, the ROUSH RS marries performance with fuel economy, rated at 300 hp and 280 lb-ft while delivering an impressive 28 mpg.
The ROUSHcharged Mustang takes the iconic Stage 3 and 'turns the dial up to 11' when it comes to outlaw styling. Unassuming with its blacked-out badging, this Mustang GT wrangles 670 horses on the down-low,
Previously mentioned, the ROUSH P-51 stands as a representation of Jack Roush's passion. Marrying his love of performance racing with his love of flying, this tribute to WWII-era aviation rates atop the most powerful pre-title muscle cars in existence. Its 5.0-liter V8 supercharged by a ROUSH Eaton TVS, the P-51 can deliver an earth-shattering 727 horsepower. Evoking the spirit of its namesake, this Limited Edition offering boasts Tuscany-leather lines interior (not unlike 'bomber jackets' of old) while military green trim accents the powerfully cool exterior.
Truck offerings kick off with a distinctive upgrade, in the form of the ROUSH F-150. Accessorizing the F-150's new lightweight aluminum body with race-inspired graphics serve to enhance its restyled grille and beaded 20-inch wheels. And with its 2.0 Performance Series Suspension System, heading off-road just got a little bit smoother. Be on the lookout though, because a refreshed ROUSH F-150 leads Roush's charge into the 2018 model year.
The ROUSH F-150 SC takes the traditional 385 hp output of the 5.0-liter V8 and transforms it. Boasting a 600 hp output, the ROUSH F-150 SC bring power, as well as the signature cosmetic upgrades you would expect. Add in the ROUSH Side-Exit Exhaust, and the F-150 SC adds to your hearing to the list of senses it will impact.
Matching that beastly output the ROUSH Nitemare F-150 comes with serious bragging rights. Named the 'Fastest Factory Street Truck in the World' it might just be the perfect union of Jack Roush's racing heritage, transplanted into this rebranded classic. Less a nightmare and more of a dream come true, its 600 hp and 557 lb-ft of torque propel the Nitemare from 0-60 mph in a handle-grabbing 4.2 seconds.
What F-Series enthusiast doesn't love the Raptor? The ROUSH Raptor only serves to enhance what is already a near-perfect offering, to deliver custom capabilities geared towards the off-road enthusiast. With multiple levels of customized suspension control, ROUSH upgrades the Raptor's more-than-capable versatility (with a healthy dose of ROUSH styling).
Convenient Hours and Easy to Find Location
If you're interested in a ROUSH vehicle of your own, there are two things you need to know.
First, the unparalleled performance, style, and cache of ROUSH Mustang or Truck are only exceeded by the seriousness with ROUSH stands by their products. The proof is in the proverbial pudding since every vehicle comes with an industry-leading 3-year, 36,000-mile limited warranty.
Secondly, DePaula Ford is your authorized ROUSH dealer. Whether you're looking for the racing performance of a Mustang or the off-road versatility of an F-150, DePaula Ford can help you find the exact ROUSH vehicle to make your driving experience everything that you want it to be.