Inventory
Our lot consists of many acres of the finest Pre-Owned Trucks available in the area. Feel free to adventure around our lot with one of our expert Sales Staff who are well versed in the information with regards to every vehicle we have to offer. They are sure to give you an excellent overview of any truck that might be a good option for you, as well as set you up for a test drive. High-quality vehicles and premium customer service are essential aspects of what we do here at DePaula Ford and we want to make certain that you feel good about choosing the best used Ford truck that will suit your needs.
Certified Pre-Owned Ford Trucks
Our Certified Pre-Owned Ford trucks undergo a rigorous 172 point inspection and must exceed all test standards in order to qualify as a Certified Pre-Owned Ford. Additionally, every vehicle comes with a Carfax vehicle history report, so that you know what kind of care and maintenance went into the truck of choice. Below are a few of the many benefits of buying a Certified Pre-Owned truck:
Vehicle History Through Carfax
Roadside Assistance
Limited Warranty - 12 Month/12,000 Mile or Whichever Comes First
Powertrain Limited Warranty - 84 Month/100,000 Mile or Whichever Comes First from The Original in Service Date
Low $100 Warranty Deductible
Transferable Warranty
Includes Rental Car and Trip interruption Reimbursement
172-Point Inspection
Sales and Service
Our Sales and Customer Service Team receive rigorous training and are kept up to date on any certifications. In this way, we can make certain that you are given the best up to date information that is available to you with regards to each truck that you might choose to test drive. Our Sales and Service Team members are here to make certain that every aspect of buying your used Ford truck is done in a seamless and no hassle manner. Your satisfaction is of the utmost importance to us, as we aim to make certain that every member of the DePaula Ford family is satisfied with the purchase of their vehicle.
Here are just a couple reviews from satisfied DePaula Ford customers:
"The experience has been very good-I was pressed for time and the staff was able to accommodate a change in schedule to get me into my car when I needed it. Also needed a bit of assistance from the service department shortly after my purchase and that too was a great experience."

"DePaula's service coordinators provide excellent service. Lenny knows my name, my car and the time frame when my service will be completed."
Financing
At DePaula Ford, we want to make certain that the purchase of your truck is a worry free and painless experience. We pride ourselves on customer satisfaction and strive to make certain that we obtain it with every purchase and interaction. A member of our Finance Team will meet with you to determine what your needs might be to help you with the best financing options for your used Ford truck. We have many financing options available for you to choose from and your plan to purchase will be tailored to what will be the best fit for your lifestyle and budget. In addition to the many finance options, ask us about our "no obligation car loan." Even if you have already been approved for financing through your bank, we can take a second look to see if we can secure a better interest rate. We aim to make certain that you feel good about your financing decision and will check out every option available to find the best fit for you.
CarFax and Warranty
At DePaula Ford, your satisfaction is a priority, and we aim to keep it long after you purchase your Pre-Owned truck. Every fine quality Pre-Owned and Certified Pre-Owned Ford truck comes with a Carfax report so that you have a record of how the truck was used and maintained previously.
In addition, you will know the number of owners for the vehicle and can check the repair history. We make sure that this information is available to you because we know that it is crucial that you have it to make this important decision when investing in a quality used truck for the family or your job. In addition, our fine Pre-Owned trucks come with options for warranties, so that you are covered.
The Ford F-150: Generational Highlights
With the next-generation Ford F-150 on the horizon for 2021, it is an excellent time to take a look at the previous and current generations of Ford F-150 trucks. After all, the F-150 is the best-selling truck of all time, the undisputed heavy-weight champion of American roads, with a history and reputation that should place used Ford trucks at the top of anyone's list.
Some of the generational highlights to look out for in your search include the Triton engines, introduced with the tenth generation (1997-2003), as well as the return of the SVT Lightning model (1999) with a new supercharged V8. The Harley Davidson model was also first introduced with the tenth generation. The eleventh generation (2004-2008) saw a complete redesign and all-new platform, while the twelfth generation (2009-2014) brought the Ford SVT Raptor, a dedicated off-road pickup truck. Of course, don't forget about the introduction of Ford's turbocharging EcoBoost technology.
The thirteenth generation (2015-present) brought the return of the Raptor and saw the Raptor become the best off-roader on the planet. It also saw the introduction of an aluminum body that dropped the F-150's weight 750 lb., and it became the first truck ever to employ adaptive cruise control. It was also the first truck to achieve a 5-star crash test rating from the NHTSA. We know that's a lot to take in all at once, so let's take a more in-depth look at these generations and see where you should start your search for a used Ford truck—there are many, many options to choose from, as you'd expect from the king of the road.
Tenth Generation (1997-2003)
Possibly the most important of the modern generations, the tenth generation featured a complete restyling, a brand-new platform, and new engines. This was the first truly modern F-150 as it offered truck buyers advanced luxury features while retaining the classic utility customers had come to expect from a work truck. This was not just your every-day work truck anymore. It was a luxury cruiser with leather interior, if you wanted, as well as a serious work truck. Accordingly, it won Motor Trend's Truck of the Year in 1997.
The tenth generation also saw an entirely new lineup of powerful engines. Enter Ford's new Triton engine family. The base engine was a 4.2-liter Essex V6, which was followed by a 4.6-liter V8. The premium engine for the 1997 year was a 5.4-liter Triton V8. In 1999, a 5.4-liter V8, for the Lightning trim, made 360 hp and 450 lb-ft of torque. This was one of the most powerful trucks on the road at the time, and it was the only one to provide that type of performance. In fact, the 1999 F150 Lightning claimed the title as the quickest and fastest production truck available in the country, and it would hold that title until 2004.
Popular new models were introduced in 1999 as the King Ranch, and Harley Davidson Edition debuted. The King Ranch offered plush leather interior and state of the art electronics, while the Harley Davidson packed a supercharged V8 similar to the Lightning model, but with more luxury amenities. The FX4 trim was also introduced with the tenth generation in 2001 and was an off-road-ready model, featuring Rancho shock absorbers and undercarriage skid plates, along with 17-inch aluminum wheels.
If you're looking for a great deal on an awesome used truck, this is a generation to keep on your list. It took some time for other truck manufacturers to catch up to Ford after the introduction of this generation, with its combination of powerful engines and luxury amenities. And these are trucks that still hold up today as dependable workhorses, comfortable cruisers, and off-road beasts—all in one package.
Eleventh Generation (2004-2008)
The eleventh generation saw a facelift and the introduction of the 3-valve 5.4-liter modular V8 engine. This engine brought a significant increase in power, and the 2004 F-150 was named North American Truck of the Year and Motor Trend's Truck of the Year. This engine was an upgrade from 2 valves to 3 valves, which made for 300 hp and an impressive 365 lb-ft of torque.
This generation also sat on a new P2 platform, which resulted in cabs that were 6 inches longer and 4 inches wider. All cabs had four doors for the first time, too, with even Regular cabs receiving rear-hinged half-doors. Four-wheel antilock brakes came standard, and Lariat trims were available. Also, in 2007, Ford added the FX2 trim, which was a 2-wheel drive version of the FX4 trim.
The interior was also reworked for this generation, featuring more modern technology and improved ergonomics. Essentially, the F-150 kept getting better and better. This generation is another to look at when buying a used vehicle. It has stood the test of time as well as any of the F-150 generations.
Twelfth Generation (2009-2014)
Engineers for the twelfth generation F-150 set out to build the most capable half-ton pickup truck ever made, and they succeeded spectacularly. The product of their efforts was a truck with more hauling and towing capacity and more interior and cargo space than any other vehicle in its class. The base model received a 4.6-liter V8, which offered 248 hp, and fuel efficiency that was similar to the V6 engines in its class. In 2009, the Ford F-150 was named Motor Trend Truck of the Year.
Motor Trend noted that this generation of F-150 was not only an update of America's favorite truck—it reinvented the pickup truck as we know it. The engine lineup also included a 4.6-liter making 292 horsepower, and an improved 5.4-liter Triton making 310 horsepower. This generation also saw the introduction of the SVT Raptor, which offered off-road prowess, unlike any other truck before it.
Thirteenth Generation (2015-present)
The latest generation of the Ford F-150 began with the 2015 model year and boasted an all-new aluminum body, new styling for the interior and exterior, a bunch of new safety features, and new engines, among other upgrades. The powertrains included a 3.5-liter V-6 and a 2.7-liter EcoBoost V-6, and 2015 saw a shift from its V8's to EcoBoost V6 engines. For 2017, a 10-speed automatic transmission was introduced alongside a 3.5-liter V6 EcoBoost engine. This combination proved much more powerful while also providing a smoother ride.
The thirteenth generation offered best-in-class towing and payload capacity along with impressive fuel efficiency, due to the employment of smaller displacement engines. At the same time, it also featured a quiet cabin with many modern luxury amenities and a wide range of cabs and trim levels. The all-new aluminum body allowed the F-150 an incredible advantage over its competitors, as no other truck in its class had adopted this technology at the time. With the reduction in weight, a smaller engine was able to power the F-150 and provide more payload capacity while also improving fuel economy. Even though it's work-truck numbers were best in its class, it was still one of the most luxurious trucks on the market.
The latest generation also features a 360-degree camera to make it easier to park and a multitude of safety features. The options continue to impress with the newest iteration of the thirteenth generation F-150. Now you'll find a 2.7-liter twin-turbocharged V6 with 325 hp and 400 lb-ft of torque. This engine returns 20/26 mpg. And the Raptor has evolved into a true off-road beast, boasting an engine—a 3.5-liter twin-turbocharged V6—with 450 hp and 510 lb-ft of torque.
The sky's the limit if you're looking for a thirteenth-generation F-150, and we can't wait to see what the next-generation F-150 has in store for us.
Do You Need a Light-Duty, Heavy-Duty or Super-Duty?
We are here to help you make the best choice when it comes to the right truck for your needs. Whether you need it for everyday driving or tough work tasks, we understand that you need the best to get the job done. We have many excellent options to choose from on our lot of high-quality used Ford trucks. Below are a few examples of trucks you will find in our massive Pre-Owned vehicle inventory.
Ford Ranger
Ford recently brought back the Ranger to the United States market. While it's been available continuously in foreign markets, Ford wanted to redesign it from its previous rendition. And now, it's possible to pick up a used Ranger. The Ranger is a smaller pickup that now provides similar towing numbers to full-size options. This is the perfect pickup when you still want a truck bed and are looking for something to easily navigate around the city, but you don't need the extra size of a full-size F-150. The 2019 model year is the first of the new Rangers (the fourth generation of the pickup), and there's always a chance of coming across the previous first through third generations of the pickup on the lot.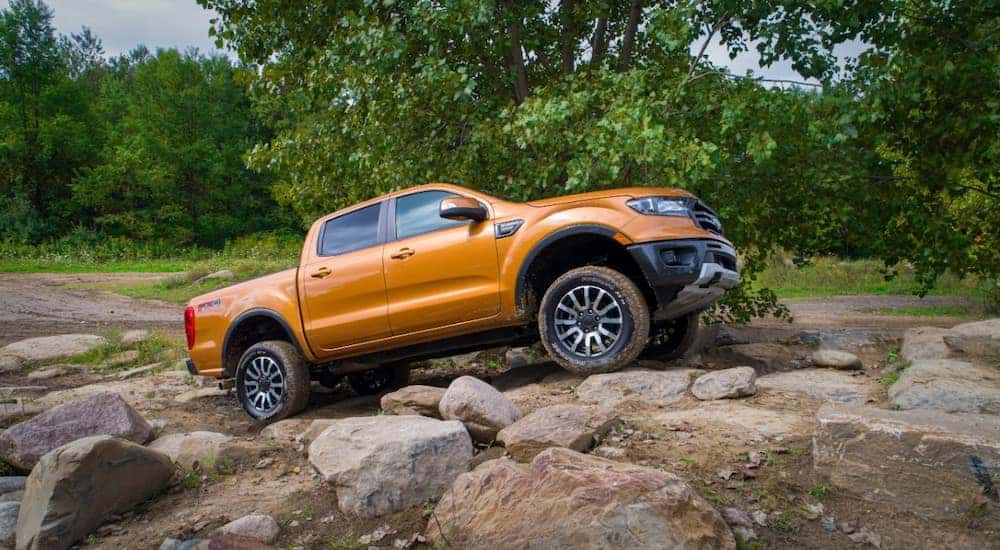 If you're a fan of older pickups, you might come across a first-generation Ranger, which dates back to 1983. Ford ran with the first generation through 1992, although it did perform some cosmetic facelifts on the pickup. The second generation ran from 1993 to 1997 and came with more of a curved design, similar to the F-150s of the time, and then the third generation came out in 1998 and ran through 2012 when Ford stopped production of the Ford (for the U.S. market). And now, the 2019 fourth generation is here, and you'll start seeing more and more of these as people turn in their leases or look to upgrade to the 2020 models. Whatever kind of Ford you're interested in, if you want a pickup but don't want the extra size, the Ranger is a fantastic purchase to consider.
Used Ford F-150
This is a great truck for the consumer who would like to be able to use it for day to day use around town and also to have on hand to move heavy items when needed. These trucks have a payload capacity of 1,500 to 3,000 pounds and are able to tow up to 12,000 pounds. This makes a used Ford F-150 a great option for the busy family that needs a truck for everyday use and to have on hand to tow the family fishing boat for the next Saturday outing at the lake.
The Ford F-150 is not only the current top-selling pickup in the United States, but it's also the best selling vehicle of any kind in the United States. This goes to show just how important the vehicle is and how much people have come to rely on it. Whether this is your first considered jump into the world of Ford F-150s or you've owned a number in the past, there's just nothing like sitting behind the wheel of an F-series pickup.
The F-150 itself first came to be back in 1948, although at the time it didn't go by F-150, it went by the name Ford Bonus-Built. If you come across such a truck, it's a true beauty and a classic. It might not be able to tow what a modern truck can, but it's a work of true craftsmanship. It wasn't until the fourth generation where the name "F-150" came to be. The Ford F-250 had an established name before the 150. And now, Ford is currently in its thirteenth generation of the pickup. Whichever generation you decide to go with, just know you'll be sitting behind the wheel of not only an American classic but likely the best-selling pickup of the year it came out.
Used Ford F-250 or F-350
These are ideal for commercial use and to carry and tow very large toys. These heavy-duty trucks offer a larger gas or diesel engines, allowing massive capabilities. The payload capacity is more than 6,500 pounds and there is a towing capacity of over 20,000 pounds for these impressive Ford vehicles.
The Super Duty Fords have been around for a surprisingly long time. In fact, back during the first generation of the F-Series, Ford produced eight different weight training pickups, so if there was a specific size of truck you needed, you could buy it.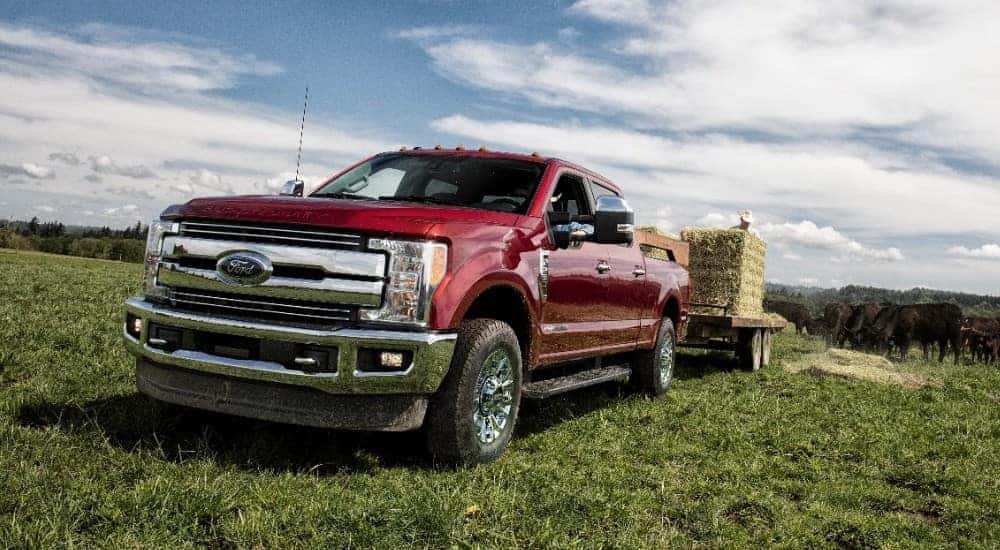 Eventually, when the second generation came around in 1953, Ford started to combine different weight ratings into specific F-series pickups (prior to this the pickups were F-1, F-2, F-3, and so on, so know if you ever see a Ford with those numbers know you're looking at the very first model year of the F-Series). So the F-2 and F-3 were combined to create the Ford F-250, and the F-4 became the Ford F-350. These are now known as some of the most powerful pickups on the planet today.
If you want the latest in power, performance, and luxury, you'll find it in the current used Ford Super Duty pickups. However, if you want something with some of the classic feels and designs of a pickup, you'll find it in some of the earlier generations. So whatever it is you're interested in, just know you'll find it at DePaula Ford.
Find The Right Ford Pickup
Is there a specific kind of used Ford pickup you're interested in? Perhaps there is a make or model year you love. Maybe your granddad had a Ford with the Eddie Bauer edition trim, and you'd like to try and track something like that down. Or you've always had your eye on one of the classic pickup designs, and you're not sure where to look. If there is something you have specifically in mind, we want to help you find it or a comparable vehicle. After all, at DePaula Ford, our primary goal is to see you in the perfect used vehicle. You should never settle, and we want to make sure you never do.
We have hundreds of used vehicles on the lot. And as the Ford F-150 is the best selling pickup in the country for over four decades, there is a good chance you'll find several exceptional pickups on the lot. But if you don't, tell us what you want in a pickup, if there is a model year you'd like to find, or if there is a specific element you remember in a truck you road in years ago and you're not sure which truck it came in, we want to help.
So for your next used truck purchase, make sure to come on out to DePaula Ford. We will do everything in our power to make sure you leave with the exact pickup you've been thinking of and shopping for.
Servicing and Maintenance
All used Fords on our lot, whether they are certified pre-owned or used, go through an intensive inspection. Any and all upkeep is then completed to ensure when you purchase your used vehicle; you receive a vehicle that is like-new and ready to perform.
After you leave the lot with one of the used Ford trucks, you will need to make sure and follow the recommended maintenance schedule. This will help keep your vehicle running smoothly and avoid costly repairs later down the line. The routine maintenance is designed to catch possible issues before anything arises. Parts like belts need to be replaced on set schedules, and the best way to do this is to follow the service schedule.
When you want your vehicle properly taken care of, it is important to come on into DePaula Ford. Here, all of our mechanics are certified and trained to work specifically on Ford vehicles. Our team of mechanics knows how to best service your vehicle, what to look for, and how to go about repairing and maintaining it. Other mechanics who are not specifically certified to work on Ford will not have this same kind of in-depth knowledge of the vehicle, which means they may miss something, or they might not know the specifics your vehicle needs. From your next oil change to total engine work and body repairs, make sure to bring your Ford pickup to DePaula Ford for proper maintenance.