Welcome to DePaula Ford
Thank you for taking the time to check out DePaula Ford, serving drivers in the greater Capital Region. At our dealership located on Central Ave. in Albany, NY, we boast a selection of over 400 new Ford vehicles to choose from. We also have a full stock of 150 used vehicles, including a number of certified pre-owned Fords.
When you're shopping for a new or pre-owned vehicle at DePaula Ford, our knowledgeable sales staff are trained to help you throughout every step of the process, and help find the car that best suits your budget and lifestyle.
Choose DePaula Ford and you'll also be backed by comprehensive maintenance and repairs at our Ford service center. We've got a full staff of certified technicians on hand, as well as state-of-the-art service equipment and authentic Ford OEM parts. So whether you need an oil change, a brake inspection, or major repairs, we've got you covered!
Stop in to DePaula Ford, your Albany Ford Dealership today! You'll find our doors open for sales Monday through Thursday from 8:30 a.m. – 8:00 p.m., and Friday and Saturday 8:30 a.m. – 6:00 p.m. You can contact us with questions online or call us at (518) 375-2163.
Contact Us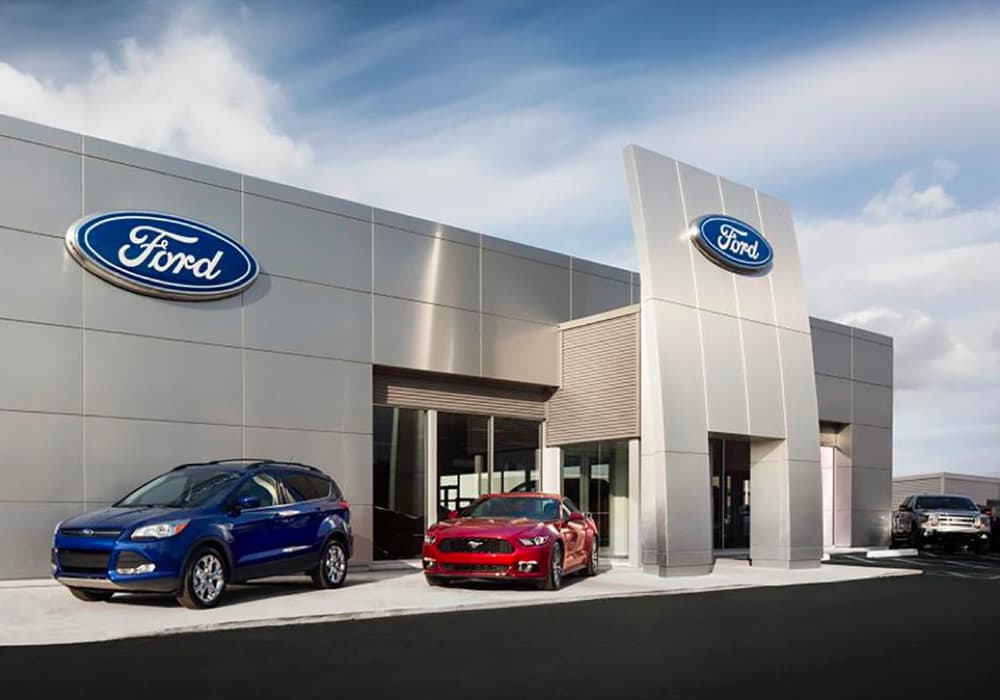 Get Directions To Our Dealership
We're Here For You
DePaula Ford always puts customers first!
Don't take our word for it: Read our reviews and see what everyone is saying.
The sales team was exceptional to work with and is always there for your needs
Professional auto service, outstanding customer service and car was ready when promised. I wouldn't take my car anywhere else.
Great service, Great work!
My wife and I just recently purchased a vehicle from DePaula Mazda dealership we want to do a shout out specifically to Albert, Haroon, and Quasem for their excellent and professional attitude and willingness to make sure that we were able to get the car we wanted at an affordable price and interest rate. A +++++++. Highly recommend to everybody to make that their first stop if they want to purchase a car
Chance and Justin were exceptional to deal with. Looking forward to seeing them again in the future
The dealership help me find a F450 Lariat I am from Pennsylvania they did an amazing job I could not find any in Ohio MD or VA Wv or NJ everything went smoothly Josh did an outstanding job thanks to everyone Jim from Ridge Runner Trucking.
Great service always. Was ready at the time they told us. We called them since nobody called us.
Very good service thank you very much I always get great service at De Paula Ford
Liked personal service wish could walk repair area. Need more time figuring out extras.on vehicle.
John was incredibly helpful, personable and a pleasure to work with while trading in our current car and upgrading to a Ford Explorer. He was able to help us get everything we wanted and more while respecting our budget and situation. We will be highly recommending John and DePaula Ford to our friends and family!
I was very pleased with the way my service was handled. Chance immediately assisted me as I arrived. He has shown me the utmost respect and speedy service I would expect. I enjoy going to DePaula Ford for the employees that work there. Chance and Alex (shuttle) have always gone above and beyond. Thank you so much to the both of you.
John made the experience of getting my car so easy and stress free! It was a great system all together!
Great experience with DePaula Ford service. Our service advisor Josh was able to get us out on time with no surprises.
Josh halse was fantastic and so was the finance lady. In and out fast. Great customer service so far!
Friendly service , quick to get things done as far as paper work and finance goes, the wait was long but out of their control. I would just suggest when someone is waiting for vehicle delivery that longer than what was thought just a little more communication
Great service experience. Our service advisor Josh was a pleasure to work with and got us out on time.
Josh halse was very professional. Good to deal with and direct deal with and direct
Chance was able to get my car in and fixed in a timely manner when I did not have an appointment. Very professional and courteous. Appreciate his efforts to have the car fixed quickly.
I had a great experience with DePaula Ford! I worked with Josh who was friendly and quick to respond to any questions that I had. Coming in to pick up the car was fast and easy; all the paperwork was ready for us when we got there and it was a hassle free experience. I would definitely them to anyone looking to buy a new car!
Very easy transaction and everything went smoothly. I'll be doing business again with Depaula
I went in early for my appointment and I was helped almost right away. I had a recall on my vehicle. The recall was taken care of professionally and I had a few other minor issues that were taken care of that day. I stayed at the dealership to wait and had coffee. I also purchased a maintenance plan while I waited. They were all great. That was my first time there. I don't know anyone by name yet. Lovely place.
John F was great to work with! My experience was quick and easy I would definitely recommend DePaula!
The service was phenomenal and management helped to make the purchase procedure as smooth as possible with with everything laid out very clearly.
My husband Richie Lawlor and I just recently purchased a vehicle from the DePaula Mazda dealership. We want to do a shout out specifically to Albert, Haroon and Quasem for their excellent and professional attitude and willingness to make sure that we were able to get the car we wanted at an affordable price and interest rate. We will go to no one else besides DePaula for new cars from here on out. Thank you all so much for all your help, patience, hard work and willingness to help us until we were able to drive our vehicle off the lot. A++++++++