Welcome to DePaula Ford
Thank you for taking the time to check out DePaula Ford, serving drivers in the greater Capital Region. At our dealership located on Central Ave. in Albany, NY, we boast a selection of over 400 new Ford vehicles to choose from. We also have a full stock of 150 used vehicles, including a number of certified pre-owned Fords.
When you're shopping for a new or pre-owned vehicle at DePaula Ford, our knowledgeable sales staff are trained to help you throughout every step of the process, and help find the car that best suits your budget and lifestyle.
Choose DePaula Ford and you'll also be backed by comprehensive maintenance and repairs at our Ford service center. We've got a full staff of certified technicians on hand, as well as state-of-the-art service equipment and authentic Ford OEM parts. So whether you need an oil change, a brake inspection, or major repairs, we've got you covered!
Stop in to DePaula Ford, your Albany Ford Dealership today! You'll find our doors open for sales Monday through Thursday from 8:30 a.m. – 8:00 p.m., and Friday and Saturday 8:30 a.m. – 6:00 p.m. You can contact us with questions online or call us at (518) 375-2163.
Contact Us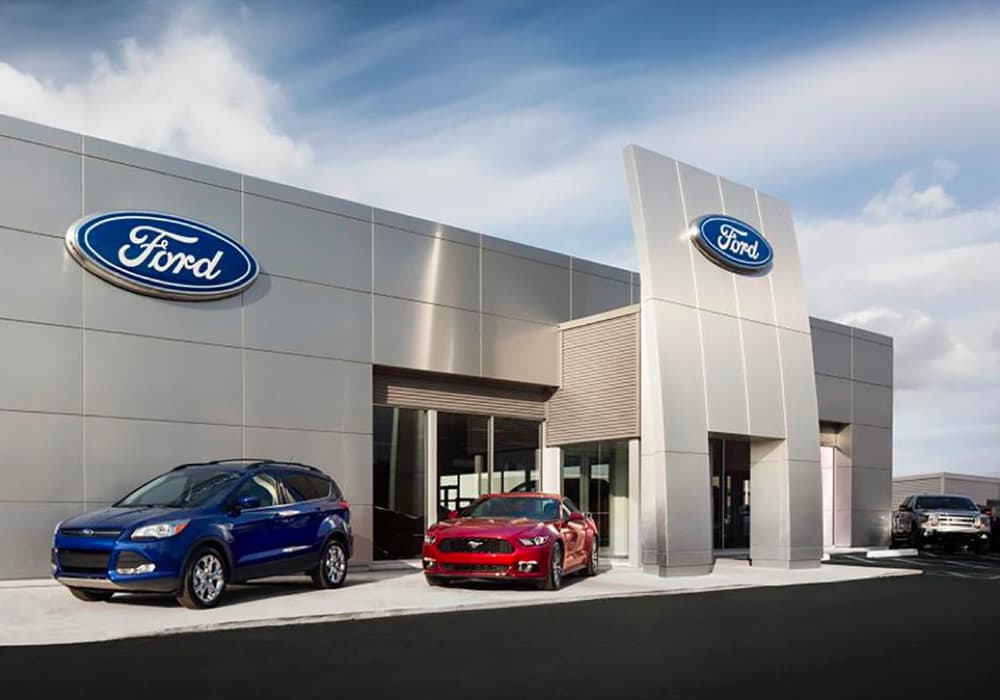 Get Directions To Our Dealership
We're Here For You
DePaula Ford always puts customers first!
Don't take our word for it: Read our reviews and see what everyone is saying.
go to jeff, expert salesman
Jim and the staff , all very helpful.
Service manager was very helpful. Kept me informed about progress of work and expected completion. Treated me like a valued customer.
Very attentive and knowledgeable. Keep me updated on every step. Offered shuttle ride. Will be back. When buying vehicle very easy and pleasant Jeremy the tech was awesome and did a great job
Appointments are readily available. Service people are polite and knowledgeable. Lenny is definitely the MAN.
Chance and the service dept. ware on top of thier game service was fast and on time
I just leased my second CX-5. Jeff was a wonderful salesperson - friendly, responsive, and helpful without exerting any high pressure. The new dealership is beautiful.
Josh Halse was great to work with. He made buying a car an easy process.
He was one of the best salesmen I ever had very nice to talk to a very trustworthy
Great folks, prompt, kind, professional and patient. The kept me well informed about the delivery.
Chance in the service department at DePaula was excellent as well as the other personnel in the service dept
Justin Dwyer is an incredible asset to DePaula Ford. He is knowledgeable, and very customer related. He is the reason I will continue to be A DePaula customer.
The service man Luis could not have been more courteous or professional or accommodating than he was. He listened carefully to what I needed and came to me with suggestions of items needing attention when he found it would take a lot longer than expected for the service he arranged a ride for me to my home and called to tell me the shuttle would be back to pick me up when the work was completed. I am very happy and would highly recommend DePaula to all my friends.
I couldn't ask for more out of a service experience. I'll definitely be booking another
Vert helpful and knowledgeable about the vehicles. Josh Halse was a great salesman. I asked Josh to keep my payment where i wanted it and he was able to get me there. Tracy from finance was amazing. Definitely will recommend this dealership to friends and family!
Clean. Good communication. Car seems to be running very good. Would be nicer to get service faster but we realize this was a major repair. The service tech tried multiple times to reprogram to save us $. We appreciate him trying for us. Chance was very good and seemed honest and sincere.
Lenny was extremely helpful and knowledgeable! I am also pleased with the maintenance at the dealership
Great service great communication I appreciated that they had a senior master service my truck
Glenn Cummings is the best. He helps me perfectly whenever I need help. Lennie Farnum in service is excellent also. With these two, I know any problem I have will work out great.
Good service and helpful communication. Quality customer service and friendly encounters during visit and day of vehicle delivery
The service dept fit my truck in their very busy schedule and I appreciated the way in which the call was handled. Vehicle was ready as promised and the job was done professionally and the work done was explained with great detail. I would definitely recommend the service department at DePaula Ford.
Came in to purchase the lease of my F150. Qasim Dawood and Nick Bennett made this process quick and easy. I am an hr from the dealership but they will keep my business.
Thank you for listening to what I needed in a vehicle. Thank you for explaining the technology that operates the Ford escape.
Made sure my truck was ready end of day because I had to have it for early the next day. We communicated, reduced the scope to only the absolutely necessary tasks, and they had it done. Good communication.
Ron and Bill make this company when it comes to the truck service. I've seen many service managers come and go in my lifetime and Ron understand what it means for customer service and it keeps coming back all the time.