2022 Ford Explorer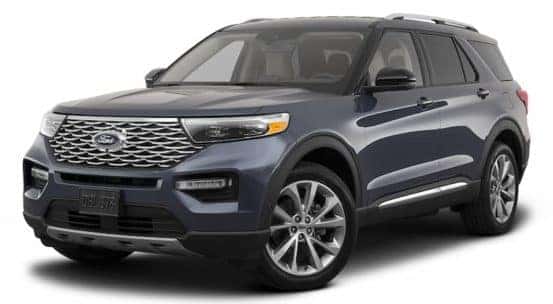 Starting at
$33,245a
2022 Honda Pilot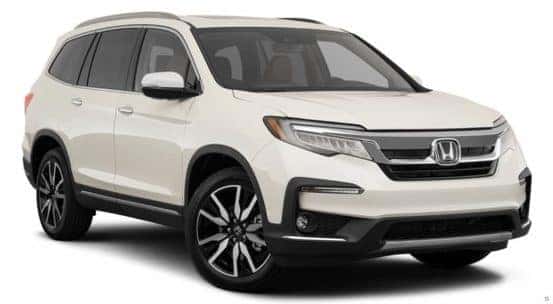 Starting at
$37,580
| | | |
| --- | --- | --- |
| 300-400 | Horsepower (hp) | 280 |
| 310-415 | Torque (lb-ft) | 262 |
| 5,600 | Towing (lbs) | 5,000 |
Comparing one vehicle to another has become something of nature for shoppers. Sometimes, the battle between the two can be fierce and exciting, but other times it can be something of a one-sided fight. Take the 2022 Ford Explorer vs 2022 Honda Pilot, for example. One of these vehicles is not like the other despite their similarities. What do we mean by this? For starters, one of these vehicles is not only cheaper than the other, but it also offers a far greater range of performance. What would normally have been a stark competition between two SUVs has turned into a gleaming beacon of hope for one manufacturer while the other has some explaining to do. The first difference that will likely help your decision is the price difference.
Pricing between the two SUVs is wildly different, and there's no feasible explanation as to why that is. The 2022 Ford Explorer starts at an MSRP of $33,245 for the base model.<sup>a</sup> Investing in the base level Pilot Sport will set you back $37,580. Both Ford and Honda have made shopping for the Explorer or Pilot an enjoyable experience where choice not only matters but is highly encouraged. Immediately, this price difference makes you assume that the Pilot must be a better vehicle in every sense of the word. This is not the case, and with the Pilot, you'll be overspending.
Performance

Ford Offers More Power
Performance is one of the many ways the Ford Explorer ousts the Honda Pilot. It's a world of difference between the two, the main reason being the Pilot is available with only one engine. The Explorer has four powertrain configurations in comparison, which then begs the question–is the Pilot's engine powerful? Well, no. Without competition, the 3.5L V6 inside the Pilot with its 9-speed automatic transmission is decent enough. Comparatively against the Explorer, however, it's a different story. This then begs another question–does the Pilot's engine have any merit to it? How does it perform against the Explorer's engine(s)? The answer is not well.
Starting with the 3.5L V6 inside of the Pilot, the result is 280 hp and 262 lb-ft of torque, along with a maximum towing capacity of 5,000 lbs. Again, not bad, but not good enough. The amount of horsepower and torque this engine produces is outperformed by all of the four Explorer engines. Finally, it's worth noting that every Explorer powertrain comes paired with a 10-speed automatic transmission, which is another win for Ford's SUV.
Four Ford Engine Options
The standard engine on the base Explorer model is a turbocharged 2.3L I-4 that creates 300 hp and 310 lb-ft of torque. Towing capacity for this engine sits at 5,300 lbs, which again is more than the 2022 Pilot. Not only is the turbocharged engine more powerful than the Pilot's V6, but it's more fuel-efficient too. EPA-estimated ratings for the 2022 Pilot are 20 MPG city and 27 MPG highway, while the Explorer's weakest available engine gets 21 MPG city and 28 MPG highway.
With the Explorer, three more engines to select from guarantee the Pilot's worth is immediately diminished. The next engine for the Explorer is a V6, which comes in two configurations. The first is a turbocharged 3.0L V6 engine that outputs 365 hp and 380 lb-ft of torque. The other configuration is exclusive to the ST trim, and this version has 400 hp and 415 lb-ft of torque. Both variations of this engine sport a maximum towing capacity of 5,600 lbs. Compared to the V6 engine inside of the Pilot, which as a reminder is the most performance this SUV will give–the Explorer ST creates nearly 43% more horsepower and a whopping 58% more torque.
Lastly, the Explorer offers a hybrid powertrain, something the Pilot doesn't offer. This 3.3L hybrid V6 has 318 hp and 322 lb-ft of torque and will still tow up to 5,000 lbs. However, the real selling point behind this engine is its fuel efficiency. Supplying your Explorer with this engine will earn you EPA-estimated ratings of 27 MPG city and 28 MPG highway.
Interior

Comfortable Cabins
For midsize SUVs, two key aspects make up a successful interior, spaciousness and tech. Starting with spaciousness, every occupant of the vehicle must fit comfortably in their seats. The first and arguably most important dimension is available headroom. To the credit of both the Explorer and Pilot, their dimensions are rather similar, which leaves less of a contrast than you may expect.
Sitting in the front row of the Explorer gives occupants 40.7-inches of headroom, slightly outmatching the Pilot's 40.1-inches. Midsize SUVs such as the Explorer and Pilot have three rows of seats, so a common concern amongst shoppers is how this will affect the two back rows. Both vehicles excel here, but the Explorer prevails once again. Passengers sitting in the middle-row of the Pilot get surprisingly more headroom than the first row with 40.2-inches. If you're sitting in the middle row of the Explorer, you'll have 40.5-inches of headroom. The third row is the most interesting, with both SUVs giving third-row passengers 38.9-inches of headroom.
Headroom isn't typically the only bane for tall passengers–legroom can be equally as important. The Explorer again prevails in this category with 43-inches of front-row legroom against the Pilot's 40.9-inches. The middle row lends more similar dimensions with 39-inches of legroom for the Explorer and 38.4-inches for the Pilot. The third row of the Explorer then has 32.2-inches of legroom against the Pilot's 31.9-inches.
Technology Features
Tech is the other important part of what makes a modern-day midsize SUV. Both the Explorer and Pilot come with an infotainment center, both of which sport 8-inch screens. However, the Explorer allows for an upgraded 10.1-inch screen, whereas the Pilot doesn't. Bluetooth, Apple CarPlay, and Android Auto all come standard, and both vehicles come with a 3-month subscription to SiriusXM Satellite Radio. However, only the Explorer comes equipped with Amazon Alexa, which has become a service of choice for many Americans over the past five years.
Each SUV can also be fitted with a 4G LTE Wi-Fi hotspot for wireless internet built directly into the car. One substantial difference between these two vehicles is how they present audio. Aside from the standard audio systems, both vehicles can be equipped with a premium audio setup. The main difference is the power draw with the Explorer's audio system supplying 980W of power to 14-speakers against the Pilot's 590W powering 10-speakers.
Safety

Driver-Assist Technology
Many different vehicles offer advanced safety features, and every year they get better. Both Ford and Honda have safety suites, and both come standard. The Explorer comes with Ford Co-Pilot360 standard, and the Pilot includes the Honda Sensing safety suite. Many of the features, while different in name, serve the same purpose. First up is Auto High-Beam Headlamps, which dynamically adjust their power based on current road visibility. Next is a Rearview Camera. However, the Pilot's camera allows for multiple angles, which is something Ford's SUV is still lacking. Considering the price difference between the two, it's likely many drivers won't mind too much.
Modern-day vehicles such as these two can stop your vehicle if a collision is about to occur with another vehicle or pedestrian. Ford has Pre-Collision Assist with Automatic Emergency Braking, and Honda has the Forward Collision Warning and Collision Mitigation Braking System, albeit it's worth noting these features all function much the same. Whenever you're in either vehicle, you'll receive a warning if a collision is inbound. Reacting to the alert is your best bet, but if you can't react fast enough, the SUV will take the matter into its own hands.
Each SUV includes a feature designed to keep vehicles aligned with their intended lane. Ford's offering is the Lane-Keeping System, and Honda offers Lane Keep Assist with Lane Departure Warning. Ford's Lane-Keeping System also has a departure warning function to it. If you're no longer aligned with your lane, both vehicles will emit a warning to bring your attention back to steering. Much like the Automatic Emergency Braking, if the driver can't react fast enough, the vehicle will attempt to fix the problem itself by providing steering input.
Rounding Out Safety Technology
A couple of other features make up the rest of these two safety suites. Each vehicle offers a Blind Spot Information System, and Ford's vehicle includes Cross-Traffic Alert, which a similar feature is found on the Honda with its Cross Traffic Monitor. When you're driving on the freeway, the Blind Spot Information System will alert you of the presence of other drivers, and you'll know when to switch lanes or not. The Cross-Traffic Alert comes into play in specific moments, such as when you're reversing your vehicle out of a parking space. When this happens, your vehicle can detect oncoming traffic and warn you promptly. Lastly, Adaptive Cruise Control appears on both vehicles, and unlike regular cruise control, this kind will bring your vehicle back up to speed if it slows down. Slowing down the vehicle can also be done autonomously with Adaptive Cruise Control.