The Right Ford Vehicle for Everyone
DePaula's extensive selection of Ford vehicles is sure to please buyers of all tastes. From the economical Fiesta to the family-friendly Fusion sedan to the Edge and Explorer SUVs, buyers can find exactly what they are looking for. Those with more heavy-duty needs can rely on Ford's trusted line of pickup trucks, including the Ranger, F-150, and Super Duty, and performance drivers will love the growl of the Ford GT and Mustang Shelby. All of our Ford vehicles are available or can be ordered in a specific trim level, so you can dial in exactly what you want. And of course, all vehicles in our inventory can be taken for a test drive to experience what they feel like behind the wheel.
hen you drive away, that is not the end of our commitment to you, however, as our service center and parts department will be here for you for years to come. Whether you need routine maintenance, scheduled service, or repairs after a collision, we will be here to help, so you never have to wonder where to go. At DePaula Ford, your needs will always come first, from the moment you first step onto our lot to years later when you visit us again for your next vehicle. Stop by today and discover how much fun it can be to shop for a Ford.
Our Huge Inventory of New and Used Fords
The size and quality of the inventory are important at any Ford dealership, which is why we are so proud of the vehicles we have to offer. We carry hundreds of brand new Ford vehicles for you to choose from covering the range of cars, trucks, and SUVs offered by Ford. This gives you a tremendous amount of freedom when picking out a new vehicle, so you can get the model, trim, and style you are looking for.
We also have a large selection of pre-owned vehicles for you to choose from, with new models available all the time. Choosing a used car is a great way to save some money, to avoid initial depreciation, and to help out the environment by keeping a car on the road longer. No matter why you want a pre-owned vehicle, we have a fantastic inventory for you to look over and choose from. We also feature a choice selection of certified pre-owned vehicles, which represent the very best inventory of used cars in the highest quality condition, covered by a certified pre-owned warranty.
Check Out the 2020 Lineup
If you are interested in the very best cars, trucks, and SUVs on the road, then you owe it to yourself to check out the newest vehicles in the Ford lineup. As your Ford dealership, we offer the latest Ford models available, and we can discuss options for pre-ordering vehicles that have not yet been released. Here are some of the current and upcoming models that we are most excited about here at DePaula Ford: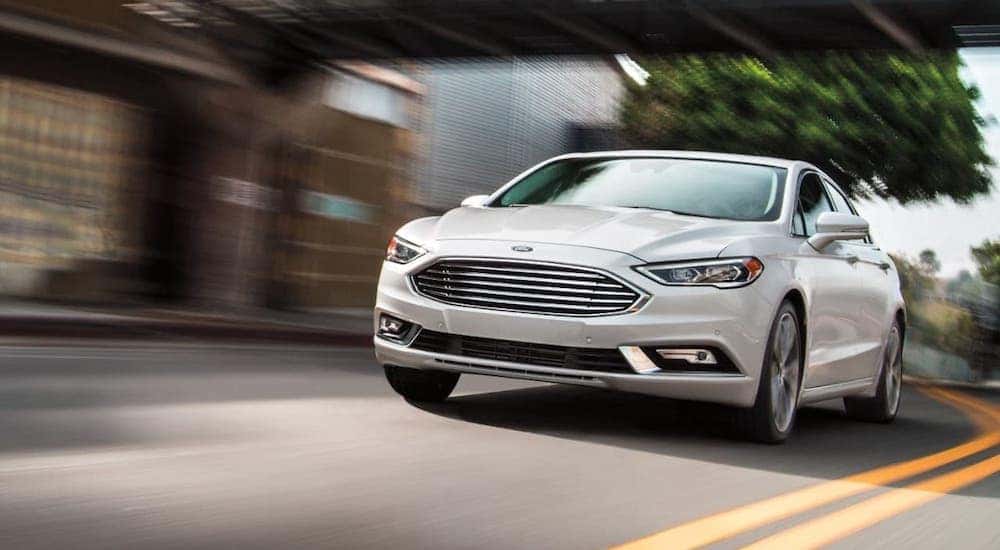 2020 Ford Fusion
If you are looking for a sedan and want a lot of options, then this is a perfect choice. Available as either a gas model, standard hybrid, or a plug-in hybrid, there is a Fusion for pretty much anyone. Amazing safety features and great technology options all come standard, making this one of the finest cars on the road.
2020 Ford Escape
The redesigned Ford Escape is an amazing choice if you are interested in a compact SUV. With gas, hybrid, and plug-in hybrid models available, the all-new Escape really showcases what a compact SUV can be.
2020 Ford Explorer
If you want something a little bigger, then the 2020 Explorer is the way to go. Redefining what a mid-size SUV can be, the Explorer offers a wide range of features and options that can take any road trip to the next level.
2020 Ford Expedition
For a full-size SUV experience, the new Expedition is the way to go, with seating for eight and some of the best towing available on any SUV. Great safety features and best-in-class legroom make this a fantastic ride for you and your passengers.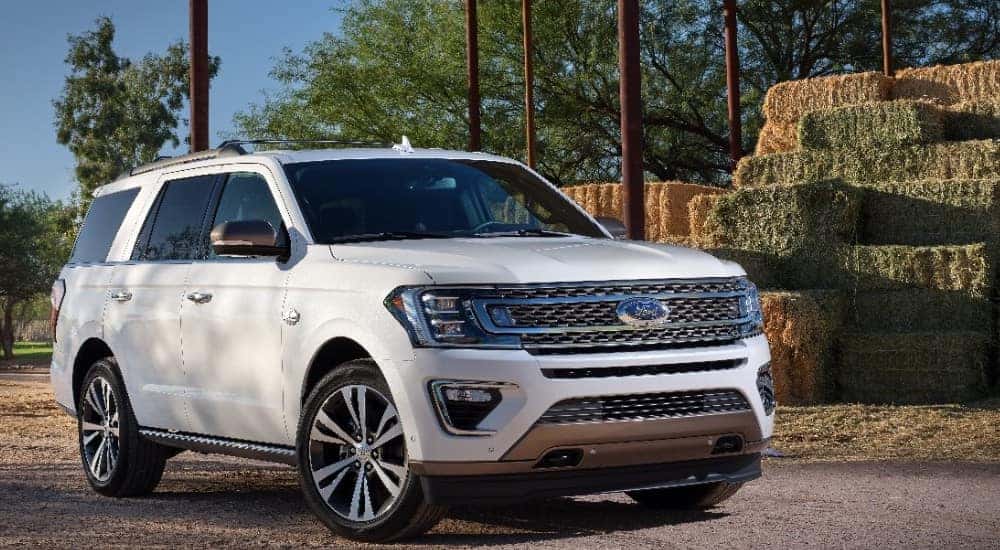 2020 Ford F-150
For our pickup truck customers, we start them off with the Ford F-150, which has been the best selling truck since the Reagan era. The latest F-150 has all the great features and power you would expect, making it ideal for both work and play.
2020 Ford Super Duty
Of course, if you need to get even more work done, then the Super Duty pickups are the way to go. These are some of the most powerful trucks on the planet and give you towing and payload capacities that push the limits of what you expect a consumer truck to deliver.
2020 Ford Mustang
Finally, the Mustang offers all the speed and power you would expect from the original pony car, with modern styling that demands attention. While the standard model provides amazing performance, if you need something a bit more intense, then check out the Shelby GT350 or the mind-blowing GT500, which has a Supercharged V8 offering up to 760 hp!
To see these vehicles or to discuss pre-order options, visit us today.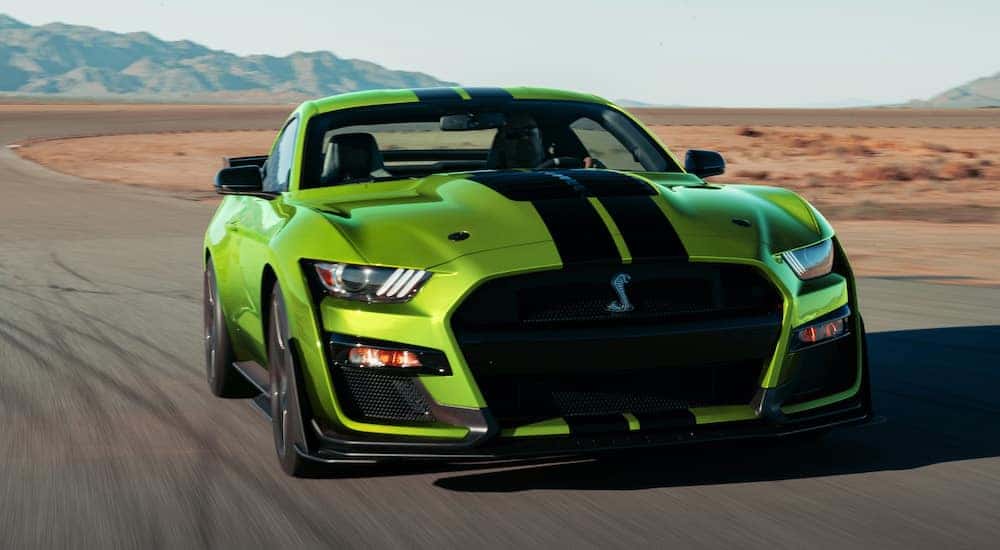 Not Ready to Buy New?
We realize that not everyone can afford a brand new Ford car, truck, or SUV, which is why we also offer an extensive selection of used vehicles for sale. All of the pre-owned vehicles we sell are top quality and not junkers. Each vehicle is inspected and reconditioned to ensure quality at a lower price. For buyers looking to purchase used but still want the benefits and features of a new model, we also offer a wide selection of certified pre-owned (CPO) Fords. CPO vehicles are newer models that offer an almost new car experience but without the new car sticker price. All of DePaula's CPO vehicles are put through a vigorous 172 point inspection process, which closely examines all aspects to ensure quality and reliability. In addition to the inspection, CPO vehicles are covered by both comprehensive and powertrain warranties, fully backed by Ford Motor Company. Complimentary roadside service is also included 24 hours a day, 7 days a week, 365 days a year.
Skilled Finance Professionals
As mentioned above, a new vehicle purchase requires a significant financial investment. This can be one of the most stressful and confusing parts of the car buying process. Fortunately, our skilled finance pros here at DePaula Ford are here to help. They are available for any questions you may have and will take the time to go over every option to find the best one for you. They will work with you to establish a fair and logical payment plan, making it affordable to get the vehicle you want. And you won't hear any fancy financial terms. They will explain everything to you in clear and easy to understand language. If you're looking to lease, we can handle that as well. Leasing a Ford from DePaula is a great way to get into a new vehicle for a lower price, with a few restrictions.
Have a Trade?
One of the easiest ways to reduce the price of your next vehicle is by trading in your existing one. Here at DePaula Ford, we consider many factors to assess the value of your current vehicle - year, make, model, mileage, and overall condition - to determine an appropriate cash value for your trade. You can then use this offer to trade your existing vehicle toward a new one, thus driving down the final purchase price in the process. We work with you to get the maximum value possible to find the best deal for you.
Stellar Service
Ford's track record for reliability is unparalleled, and our aim is to keep your Ford vehicle trouble-free. Still, sometimes repairs are needed, and regular maintenance is the key to a long-lasting ride. Our comprehensive service center is staffed by expert Ford technicians who know every Ford vehicle inside and out. Using state of the art diagnostic tools, they can get to the bottom of any issue, no matter how small. Whether you visit our service department for routine maintenance like oil changes, tires or brakes, or something more involved like engine repair, you can be assured our technicians will perform the work professionally. They'll keep you informed at all stages, so you know what to expect. At DePaula Ford, quality and expert craftsmanship are hallmarks of our vehicle service.
At DePaula's collision center, we can perform the services needed to get your vehicle back on the road after an accident, restoring its safety, comfort, and performance. We only use genuine Ford parts, so you can be assured you'll be getting the right parts for the job, and they will be fully compatible with your vehicle. Our collision center prides itself on providing the best service in the Capital District. Our expert technicians can handle any job from collision repair and restoration to minor touch-ups and detailing. No job is too big or too small.
Speaking of parts, our well-stocked parts department has everything the do-it-yourselfer needs to keep their Ford vehicle in tip-top shape. No matter if you are doing mechanical repairs or simple accessorizing your ride to personalize it to your own style, our parts advisors are on hand to provide advice and get you the parts you need. If we don't have exactly what you need, we can order it for you, no problem.
d they'll also handle any basic maintenance. Customers can even opt for the custom detailing department, or they can purchase any applicable parts from the dealership.
Our Service Center Will be Here for You
While the vehicles themselves might be the best reason to choose a Ford dealership, here at DePaula Ford, we believe our inventory is only the beginning. After we have worked with a customer to help them find the perfect vehicle, we do not simply call it a day – we make sure we are here for you for years to come. Our service center has factory certified technicians and professionals that know Ford vehicles inside and out and specialize in working on the cars, trucks, and SUVs that we sell. No matter what you need, whether you have a simple question or need a new engine after a serious collision, we will be here for you.
Genuine Factory Parts
At DePaula Ford, we use factory parts whenever possible while providing service or making repairs on your vehicle. Original equipment manufacturer (OEM) parts guarantee that your warranty remains intact and you know they were designed to go into your vehicle. We can order parts for you if you prefer to do your own work, and we have a large inventory of factory parts we keep on-hand to perform repairs and maintenance as quickly as possible. That is the value and benefit of choosing us as your Ford dealership.
Built on the Ford Legacy
Here at DePaula Ford, we fully embrace the legacy of quality and excellence that goes hand-in-hand with the "Ford" name. Since Henry Ford introduced the integrated moving assembly line to auto production in 1913, the Ford name has stood for quality and customer-focused production. From the first Thunderbird that rolled out in 1954, to the 1964 Mustang, Ford vehicles have been a symbol of the joy that driving can bring.
We continue to build on that legacy today with the lineup of vehicles we offer and our customer focus. Here at DePaula Ford, we have a simple philosophy that we believe builds on the Ford legacy: do things right. From working with our customers to find the perfect vehicle to determining what kind of financing will help them get that car and still be able to sleep at night, everything we do is driven by the desire to make sure it is done the right way.