Reliable and Dependable Ford Trucks
Ford trucks are among the most reliable and dependable vehicles on the road, often ranking above average and better than most on reliability ratings and studies by groups such as J.D. Power. Ford also offers one of the best warranty packages of any vehicles out there. For example, if you are interested in a 2020 Ford F-150, then it would be covered by a bumper-to-bumper 3-year or 36,000-mile warranty, as well as a 5-year or 60,000-mile powertrain warranty, which comes with a Roadside Assistance Program. In other words, not only are Ford trucks incredibly reliable and dependable, but that is backed up by the warranties that Ford offers on their new vehicles. Any time you need work done on your vehicle, under warranty or not, we will be here for you with our certified service center to take care of whatever you need.
A Versatile Selection of Ford Trucks
One of the best things about the modern lineup of Ford trucks is the variety of vehicles that are available and how you can find whatever you need. For example, the 2020 Ford F-150 has six engines to choose from and seven different trim levels available. With some other companies, the differences between their trims can be pretty minor, often making a few of them pointless, but not so with Ford.
The standard Ford F-150 XL, for example, is a great choice if you need to get a lot of work done, offering options for the best towing capacity and payload for the F-150. Meanwhile, trim levels like the King Ranch, Platinum, and Limited each offer great luxury and sophistication as well as more choices for engines and other options on them. Finally, the F-150 Raptor is an amazing, off-road dedicated trim that starts with a boosted twin-turbo engine. It also includes FOX Live Valve shocks that make for a comfortable ride on even the roughest terrain, and even features available beadlock-capable wheels so you can air-down your tires safely.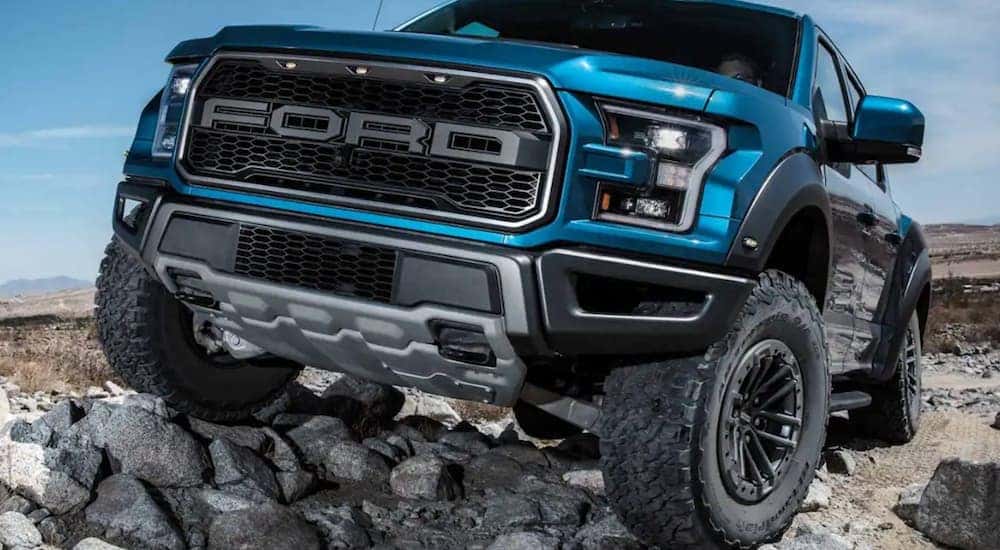 The 2020 Ford Truck Lineup
The 2020 lineup of Ford trucks continues the proud tradition of offering something for every type of truck-lover. Come and see what would work best for you at DePaula Ford right now. These models include:
2020 Ford Ranger
The Ford Ranger just received a major overhaul with an all-new model in 2019, so the 2020 model is likely to carry over much of what changed. While there will not be any substantial new features on the Ranger, and it will continue to offer tremendous power and performance for a midsize pickup. That includes up to 7,500 lbs of towing capacity and an available maximum payload of up to 1,860 lbs. If you are interested in an off-road pickup, then watch for the new FX2 Off-Road Package this year, which includes a retuned suspension, a front underbody guard, and an off-road instrument cluster that displays your yaw, pitch, and roll in real-time.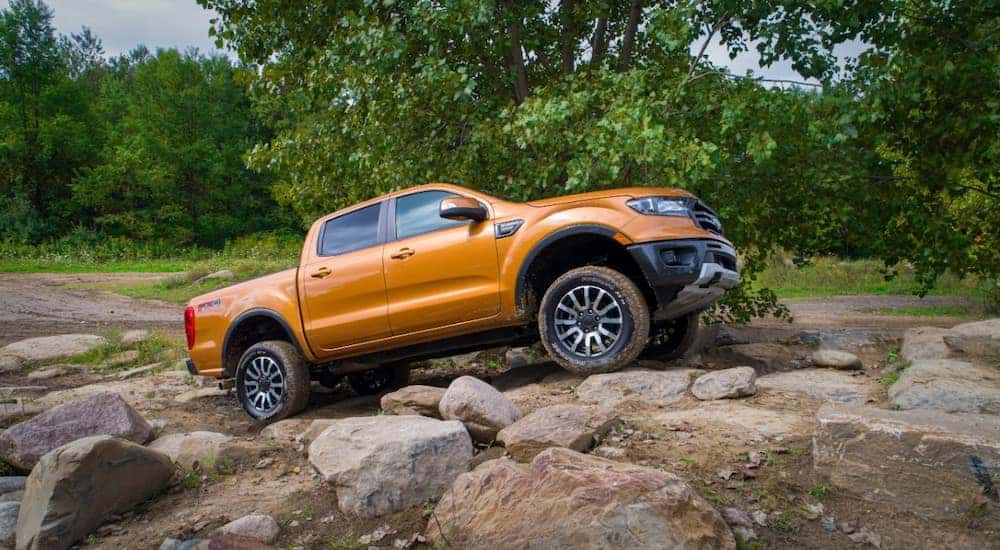 2020 Ford F-150
In many ways, the legendary F-150 is the masthead of the Ford trucks lineup, and that is with good reason. It is the perfect full-size pickup for a wide range of drivers, and the 2020 model will continue to build on everything that has come before. The 2020 F-150 has a maximum towing capacity of up to 13,200 lbs when properly configured and can offer up to 3,270 lbs of payload with the right setup. The Raptor is the F-150's dedicated off-road trim, and it features a 450 hp engine, off-road shocks, and a terrain management system to help you tackle any trail.
2020 Ford Super Duty
When you need a full-size pickup that can handle any amount of work you throw at it, then the Super Duty models of the Ford F-Series are the way to go. These are incredibly powerful trucks that include the F-250, the F-350, and the all-new F-600 Super Duty Chassis Cab. The Super Duty models are getting an exciting powertrain update this year, including an available 7.3L V8 gas engine, a 6.7L Power Stroke Turbo-Diesel engine, and a 10-speed TorqShift transmission for better performance and shift efficiency. The all-new F-600 Super Duty Chassis Cab is an incredible option if you are looking for a powerful platform to build upon, featuring great safety features and a maximum GVWR of up to 22,000 lbs.
The Ford Truck Legacy
Although different Ford trucks have been available over the years, including some early one-ton truck chassis models, the beginning of the modern era really started in 1948 with the introduction of the F-Series. From a half-ton to a three-ton model, these pickups and their V8 engines defined what a truck could be and paved the way for the modern lineup of Ford trucks. The F-100 was introduced in 1954 and offered an overhead 3.9L V8 engine, which quickly dominated the market and remained in production for nearly 30 years.
The F-Series of Ford trucks continued to evolve and develop throughout the 1960s and 70s, including the introduction of the FORD name on the front hood and the first F-150 released in 1975. Throughout the 80s and 90s, the F-150 continued to develop into a consumer-oriented pickup, while the Super Duty models became the workhorses designed for power. The F-Series of Ford trucks have been the best selling vehicles in American markets for more than 40 years now, and they do not show any signs of stopping.