Two Generations of the Ford Fusion
Ford introduced the Fusion for the 2006 model year with a spacious interior and a roomy trunk that provides a full 15.8 cubic feet of space for your belongings. The first generation of Ford Fusion came with three different trim levels to choose from: the S, SE, and SEL. This remained unchanged until 2010 when Ford added a new Sport trim with more speed and a Hybrid model with exceptional fuel economy. All-wheel drive was also introduced for the Sport and SEL trims.
The 2013 model year heralded in an entirely new second-generation Ford Fusion, which remains in production today. The new model was even roomier than the previous version, with the trunk enlarged to a full 16 cubic feet of space. The added room of the second generation also doesn't come at the expense of its looks, which remained sleek and modern. The S, SE, SEL, and Sport trims were now joined by a new top-of-the-line Titanium trim.
Ford also offered two different hybrids for the second generation - a traditional Hybrid and a new Plug-In Hybrid for even greater efficiency. In 2017 an even more luxurious top trim was added to the Fusion lineup - the Platinum. Things remained the same until the 2020 model year when Ford dropped the Sport and Platinum trims and began offering the hybrid powertrain in all four trim levels, so you could get all the great Ford features you love with the benefits of a hybrid engine.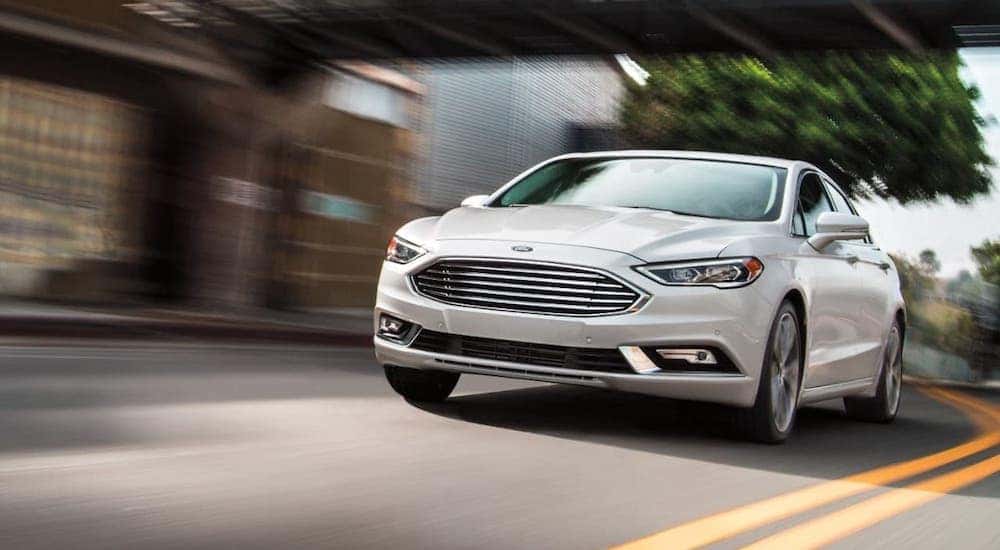 How Much Gas Does a Used Ford Fusion Use?
Throughout the 15 years of its history, the Ford Fusion has maintained its position as one of the most fuel-efficient midsize sedans on the market. The first generation Fusion S has the same engine as the mid-level SE, a 2.3-liter Duratec I-4 that produces 160 hp and 156 lb-ft of torque. It comes with either a 5-speed automatic transmission or a 5-speed manual transmission. This model with automatic transmission gets 21 MPG in the city and 29 MPG on the highway, while the manual transmission provides a solid 20 MPG in city driving and 28 MPG on the highway.
The top-of-the-line SEL trim features a 3.0-liter Duratec V6 gas engine that produces 221 hp and 205 lb-ft of torque. This engine comes equipped with a 6-speed automatic transmission and provides 18 MPG in city driving and 27 MPG on the highway. These fuel economy numbers remained steady until the 2010 model year refresh.
In 2010, the base S and SE models were equipped with a 2.5-liter Duratec I-4 gas engine that produces 175 hp and 172 lb-ft of torque. With the 6-speed automatic transmission, it provides 23 MPG in city driving and 34 MPG on the highway, while the 6-speed manual transmission Fusion gives drivers 22 MPG in the city and 31 MPG on the highway.
Ford also upgraded the 3.0-liter Duratec V6 on the SEL trim, giving it 240 hp and 223 lb-ft of torque while utilizing a 6-speed automatic transmission. The upgraded engine also provided an improved fuel economy of 19 MPG in the city and 27 MPG on the highway and could even run on E85 ethanol fuel.
The new Fusion Sport trim featured a 3.5-liter Duratec V6 engine paired with a 6-speed automatic transmission that produces 263 hp and 249 lb-ft of torque. Drivers can expect 18 MPG in city driving and 27 MPG on the highway with front-wheel drive and 17 MPG in the city and 24 MPG on the highway with all-wheel drive.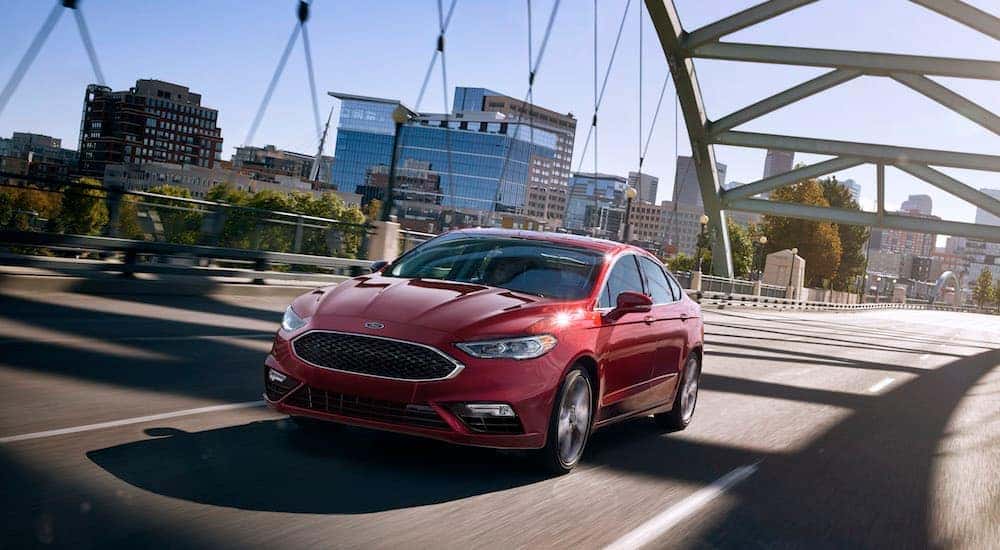 Second Generation Fuel Economy
Ford changed the engines once again on the Fusion for the second generation introduced in the 2013 model year, with the S and SE featuring a 2.5-liter I-4 that produces 175 hp and 175 lb-ft of torque. This model can get up to 22 MPG in the city and 33 MPG on the highway. The Fusion SEL models were now outfitted with a 1.6-liter turbocharged I-4. Even though this engine is smaller and can get up to 24 MPG in the city and 37 MPG in highway driving, its turbocharger allows it to produce 178 hp and 184 lb-ft of torque.
The Sport trim and all-new Titanium trim received a larger and more powerful 2.0-liter turbocharged I-4 that produces 240 hp and 270 lb-ft of torque. A used Ford Fusion with this larger engine can provide an estimated 22 MPG in the city and 32 MPG on the highway. This makes it more efficient than the original 2006 base model Fusion despite offering roughly 50% more power.
Also new for the 2013 model year were two different hybrid options. Both feature a 2.0-liter I-4 engine coupled with an electric motor that has a total system output of 188 hp and 129 lb-ft of torque. However, the traditional hybrid provides 41 MPG combined while the plug-in hybrid comes in at a slightly lower 38 MPG combined. But while it may be slightly less efficient when operating its gasoline engine, the plug-in variant has the option of running on battery power alone for trips of up to 20 miles.
For 2017, Ford introduced a 2.7-liter EcoBoost turbocharged V6 engine for the Sport and Titanium trims. This engine produces an incredible 325 hp and 380 lb-ft of torque, making this the most powerful engine ever offered on the Ford Fusion. It also gets a solid fuel economy of 17 MPG in the city and 26 MPG on the highway. If you want a used Ford Fusion with awesome acceleration, then you should consider one with this engine.
What Are Some Safety Features of the Ford Fusion?
Ford has always taken steps to make its vehicles as safe as possible, and the Fusion is no exception. If you are looking at a used first-generation Ford Fusion, you will get a sedan equipped with a full complement of airbags, excellent halogen headlights, anti-lock brakes, and on SE and SEL models, fog lights. Ford also added AdvanceTrac stability and traction control for the 2010 model year, making these models even better handling on the road.
Second-generation Ford Fusion models have even more safety features, including a rearview camera. Optional systems include a reverse sensing system, Active Park Assist, a blind-spot monitoring system, a lane-keeping system, and adaptive cruise control. Many of these features are standard on higher trims. For the 2019 model year, Ford went even further and made the entire complement of Ford Co-Pilot360 active safety features standard across the lineup. As you can see, a used Ford Fusion offers many standard safety features that are sure to keep you and your passengers safe no matter where your travels take you.